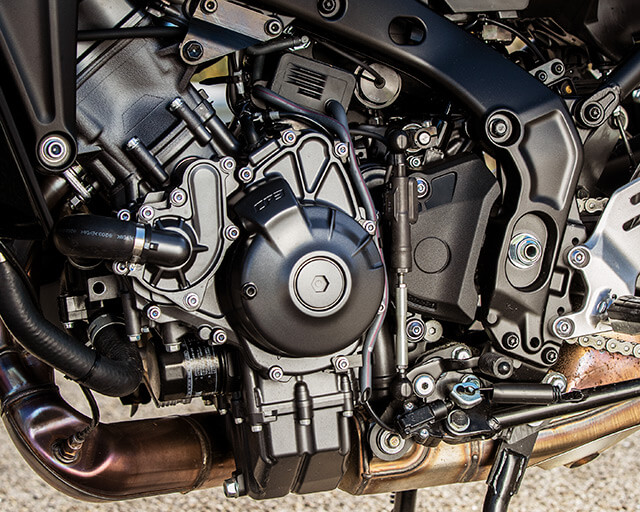 889CC CP3 ENGINE
Powering the all-new Tracer 9 GT is a completely redesigned 889cc CP3 crossplane technology engine that is lighter, more powerful and more advanced than the original powerplant that forever changed the image of the Sports Touring class. With a torque output of 93 Nm at 7000rpm – 1500rpm lower down the rev range then previously – and increased power output to 119PS at 10,000rpm – 4hp more than previously – makes this one of the most thrilling, capable and versatile motorcycles in its class.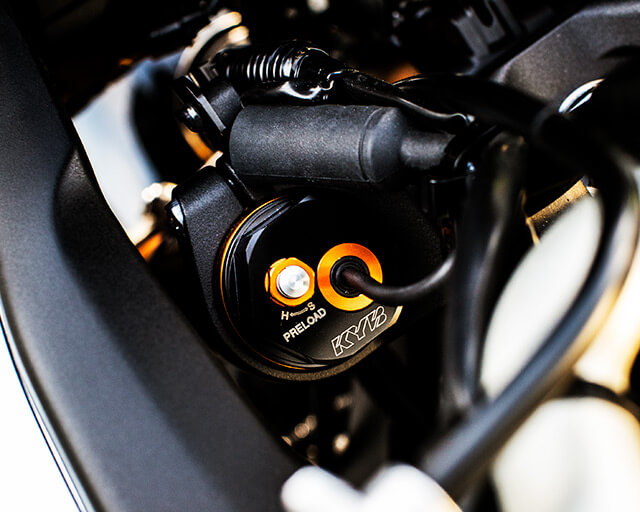 KYB ELECTRONICALLY-CONTROLLED SUSPENSION
Yamaha and KYB have jointly developed the Tracer 9 GT's electronically-controlled semi-active suspension system that provides the ultimate in riding comfort combined with a precise feel from the road. Officially known as the KYB Actimatic Damper System (KADS), this highly advanced suspension generates a much wider range of damping force than conventional suspension, and is able to respond instantly to varying riding conditions in order to achieve optimum handling performance. KADS can be used in two modes: A-1 is the sporting mode that is designed to deliver taut and responsive suspension action; A-2 mode that is designed to give a more supple and comfortable ride on rougher or uneven surfaces.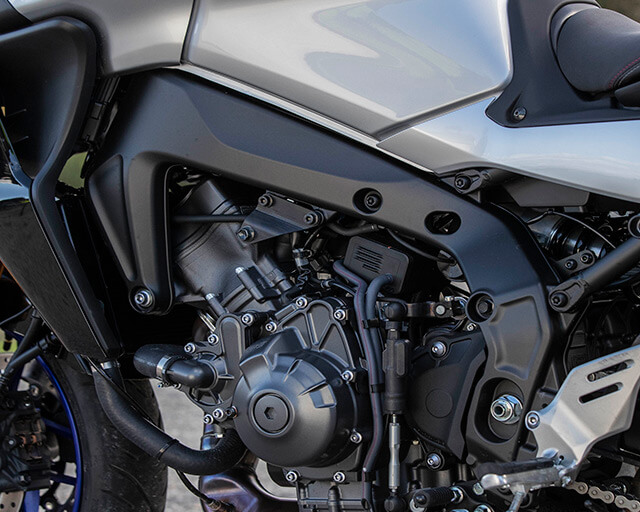 NEW CF DIE-CAST DELTABOX CHASSIS
Lighter, more compact and better handling, Tracer 9 GT's all-new CF die-cast Deltabox chassis has been designed to give ultimate sports versatility with excellent comfort, making this the kind of bike that is ready to switch character to suit the rider's mood.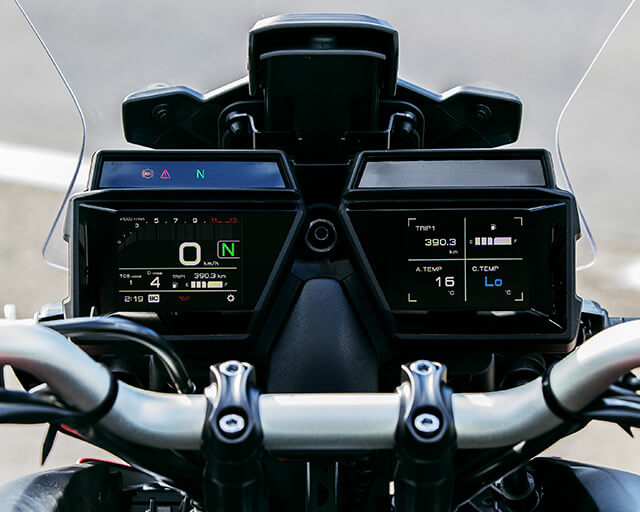 TWIN 3.5-INCH FULL COLOUR TFT METERS
The all-new twin 3.5-inch multi-function TFT meters display extremely clear data and feature an intuitive rider interface that separates the critical running information from the functional operational information. Key running information is featured on the left screen, including a multi-coloured bar-type tachometer whose colour changes as rpm rises, as well as a digital speedometer, fuel gauge, gear position and TCS mode indicator. The left screen can be switched to the TCS mode and setting display, enabling the rider to select the desired intervention mode for the electronic rider aids. Meanwhile the right screen is split into four separate sections, each one displaying a range of information such as odometer, tripmeters 1 & 2, temperature and more.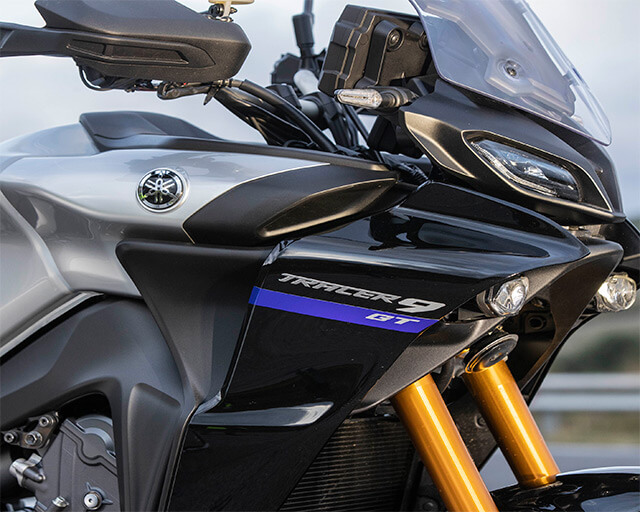 NEXT GENERATION DESIGN
Featuring completely redesigned bodywork, the all-new Tracer 9 GT seeks to build on the outstanding success of Europe's best-selling Sport Touring by offering an even more sporty, dynamic and versatile package. A key feature of the new Tracer 9 GT is the arrow silhouette formed by the fully adjustable windscreen, front fairing and fuel tank cover that gives a dynamic and purposeful new look, and the compact new mono-focus LED twin-eye headlights – together with LED lighting throughout and twin TFT meters – reinforce the bike's technologically advanced look and underline the Tracer's high overall specification.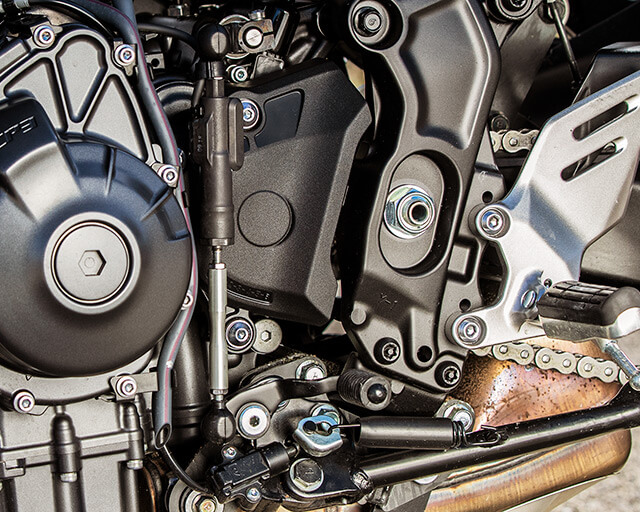 UP-AND-DOWN QUICK SHIFT SYSTEM
For clutchless up and down shifting the Tracer 9 GT is equipped with a new Quick Shift System (QSS). A sensor on the shift rod detects movement in the gearshift pedal, and the ECU cuts drive torque to the transmission to enable smooth and fast gearchanges, both up and down the transmission.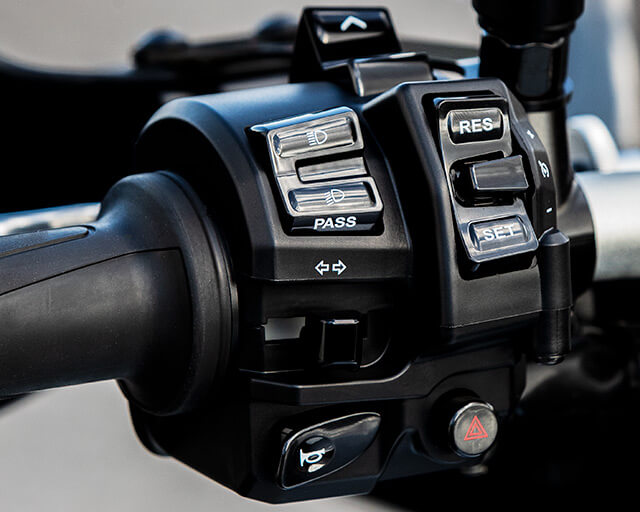 CRUISE CONTROL
The Tracer 9 GT is now equipped as standard with a Cruise Control that's similar to the system used on the previous GT model, making longer journeys even more relaxing and enjoyable.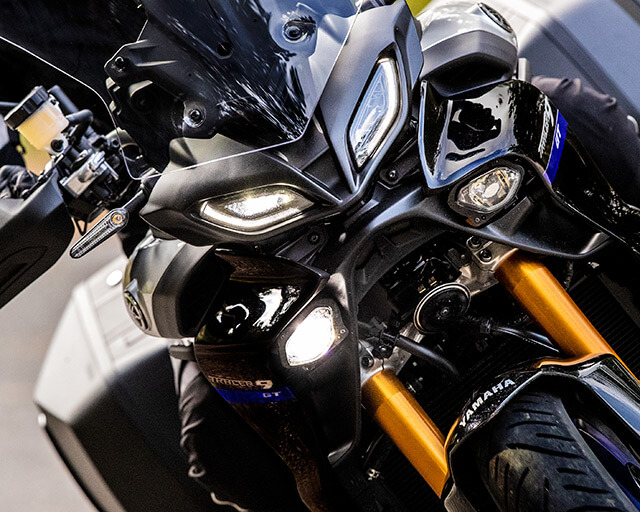 LED CORNERING LIGHTS
The Tracer 9 GT is equipped with a highly sophisticated intelligent cornering light system that is programmed to light up the road ahead when the IMU senses that the machine is leaning at more than 7º and its speed is at least 5 km/h. A key feature of this LED cornering light design is that the IMU's high speed calculations and processing power enable the system to increase the brightness of the cornering lights as the banking angle increases, giving the rider a clear field of vision when riding at night.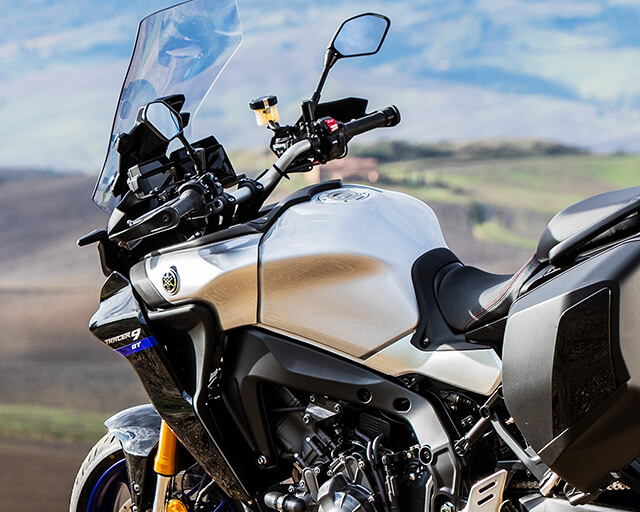 GRIP WARMERS
Wind chill can make the rider's hands cold and uncomfortable even on a cool summer's day, and the Tracer 9 GT's grip warmers can be precisely adjusted through a range of 10 settings using a scroll wheel to achieve the optimum temperature. Specially shaped grips feature thinner rubber that enables efficient transmission of the heat to keep hands warm whatever the weather.