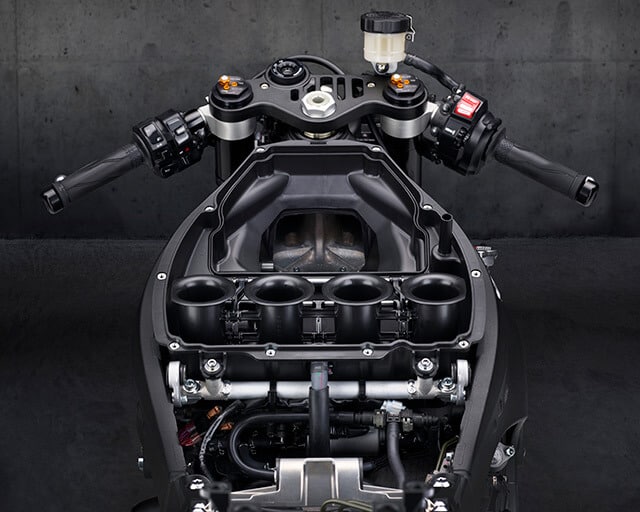 REFINED CP4 ENGINE
The YZF-R1 come equipped with the next generation of Yamaha's unique 998cc inline four-cylinder crossplane crankshaft engine for refined performance. Returning features such as titanium fracture-split connecting rods and offset cylinders contribute to a responsive and potent character, while the cylinder head, fuel injectors, finger-follower rocker arms, and camshaft profiles are new for 2020.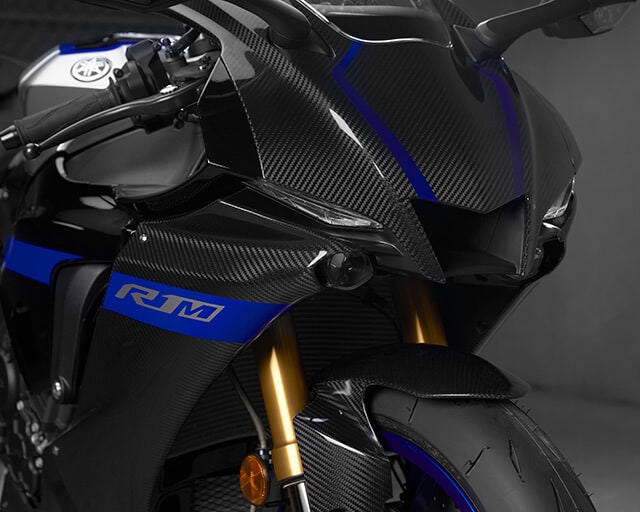 ADVANCED BODYWORK
Redesigned bodywork contributes to higher-quality performance and a more comfortable rider fit. The new design creates a 5.3% increase in aerodynamic efficiency while reducing wind noise and pressure on the rider when in a tucked position, and improved comfort comes from smoother side sections where the rider's legs contact the bike. The 2020 YZF-R1M also receives a new carbon fibre tail cowl.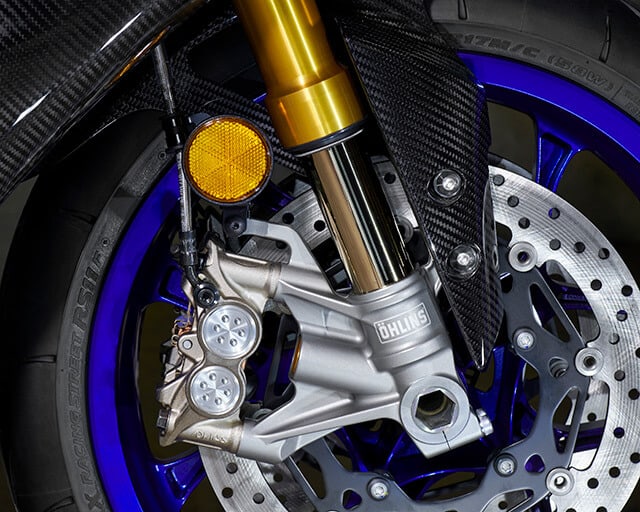 BRAKE CONTROL SYSTEM
Technology is transforming the way we ride, and the latest YZF-R1 features no fewer than seven electronic control systems. Featuring two modes, the new Brake Control (BC) system analyses data such as lean angle and slipping acceleration and modulates hydraulic brake pressure to prevent wheel lock ups.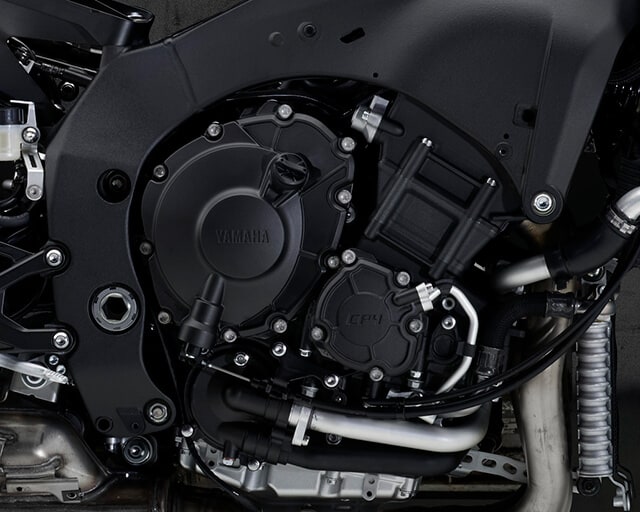 ENGINE BRAKE MANAGEMENT
Control is everything when you're on the track, and the new Engine Brake Management (EBM) system allows you to adjust engine braking force. Using data from various sensors, the EBM adjusts throttle opening, ignition timing and fuel injection volume to give you a choice of three engine braking modes to suit different riding situations.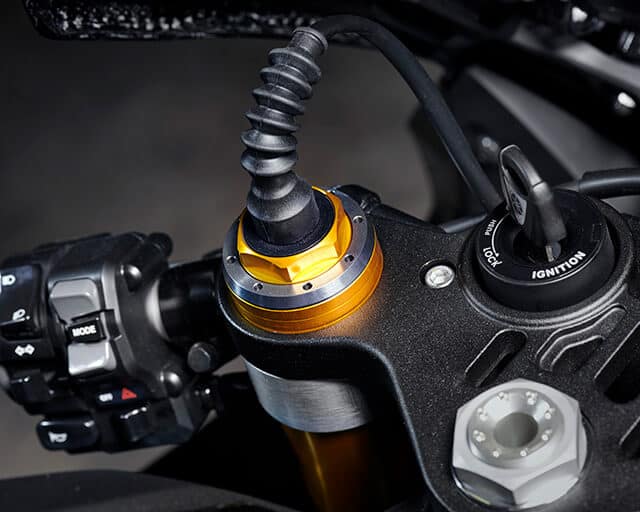 ENHANCED SUSPENSION
Öhlins Electronic Racing Suspension (ERS) on the YZF-R1M features new NPX pressurised fork legs, along with a revised rear shock. Everything is adjustable through the YRC settings and Y-TRAC on the TFT dash or via a smartphone.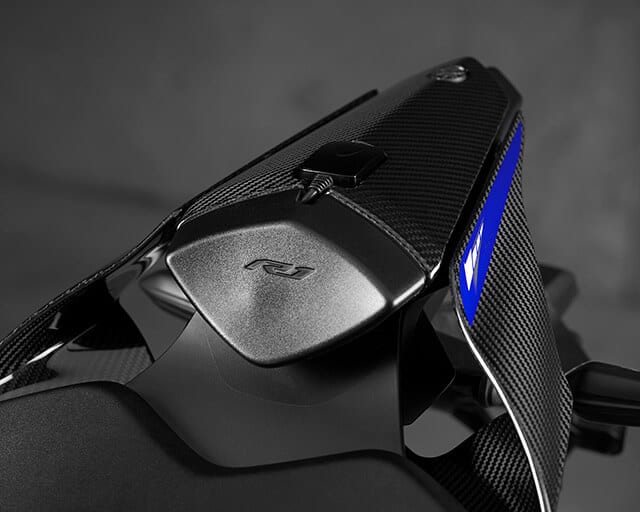 COMMUNICATION CONTROL UNIT
A Communication Control Unit (CCU) enables checks of the various forms of machine information and simplifies the setting process in order to heighten the instrument panel's function as a rider-machine interface. Comprised of the CCU and a GPS antenna, running data can be recorded via a data logger, and with the GPS function, the system also enables automatic lap time recording on circuit course.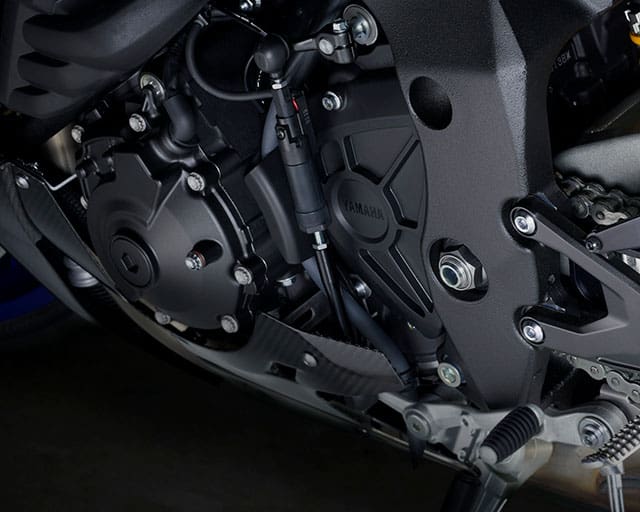 QUICK SHIFT SYSTEM
The YZF-R1M also comes equipped with a new Quick Shift System that gives faster gear changing. This system instantly cancels drive torque when an upshift is detected - enabling full throttle clutchless upshifts for outstanding acceleration through the close ratio 6-speed transmission.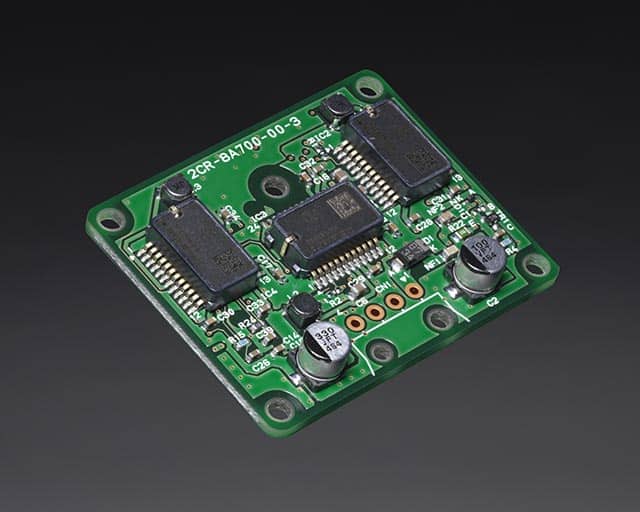 6-AXIS IMU
The 6-axis Inertial Measurement Unit (IMU) consists of a gyro sensor (angular velocity sensor) that constantly measures machine pitch, roll and yaw, and a G-sensor (accelerometer) that measures acceleration in the forward-backward, up-down and right-left directions. This technology makes possible the class-leading array of rider aids includes lean sensitive Traction Control System (TCS), Slide Control System (SCS) as well as a front wheel lift control system (LIF) and Brake Control system (BC).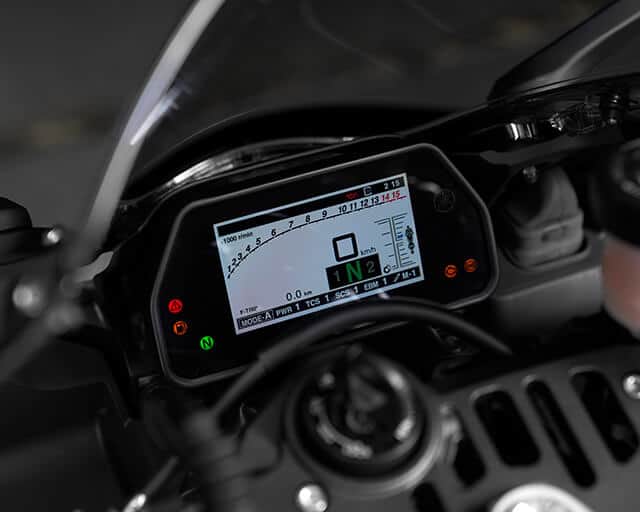 ACCELERATOR POSITION SENSOR
An all-new Accelerator Position Sensor with Grip (APSG) ride-by-wire system- featuring Yamaha's Chip Controlled Throttle (YCC-T) - eliminates throttle cables and reduces weight while providing smoother throttle operation.