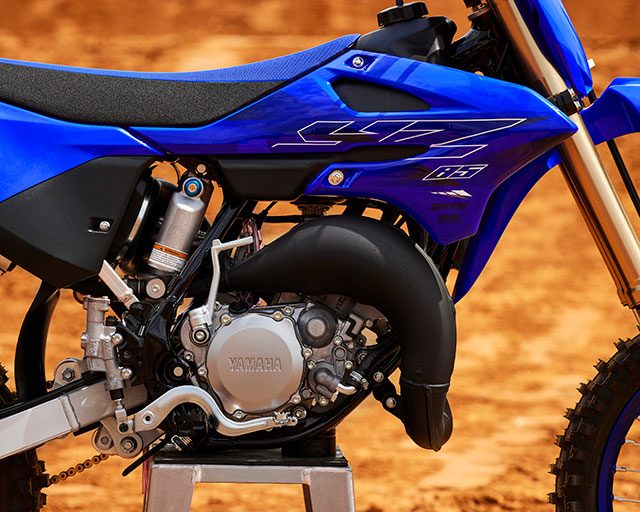 YPVS 2-STROKE ENGINE
The 85cc liquid cooled engine features the Yamaha Power Valve System (YPVS) that boosts overall performance and contributes towards the bike's easy to use torque. Running with a high compression ratio – and equipped with a close ratio 6-speed transmission – the YZ85 delivers outstanding acceleration with race winning power.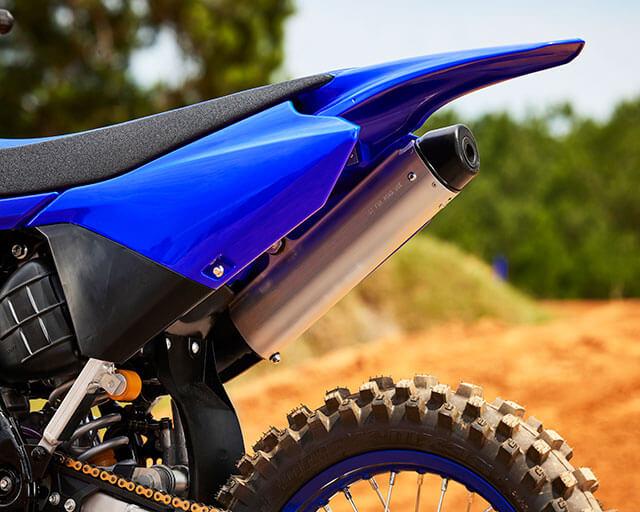 LIGHTWEIGHT ALUMINIUM REAR FRAME
An all-new detachable aluminium rear frame replaces the previous model's steel unit and reduces weight by 570g, contributing towards the bike's mass centralisation.
IMPROVED RIDER ERGONOMICS
A flatter seat and redesigned fuel tank provide improved ergonomics for easy front/rear weight shifting. The new seat design accommodates a new single bolt seat fixing, making routine maintenance easier and quicker.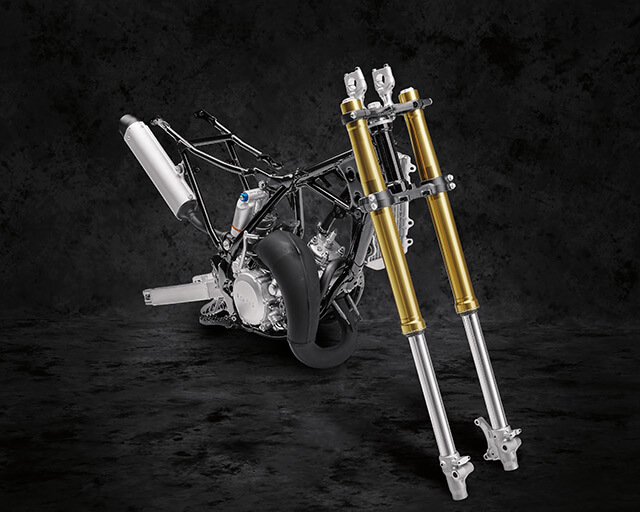 FULLY ADJUSTABLE FRONT FORKS
Featuring specially machined one-piece tapered outer tubes to align them well with the rigidity balance of the frame, and equipped with 36mm inner tubes, the inverted front forks provide optimised damping settings. Combined with the fully adjustable low friction cartridge forks, the YZ85 has the most sophisticated front fork design ever used on a youth YZ motocross bike.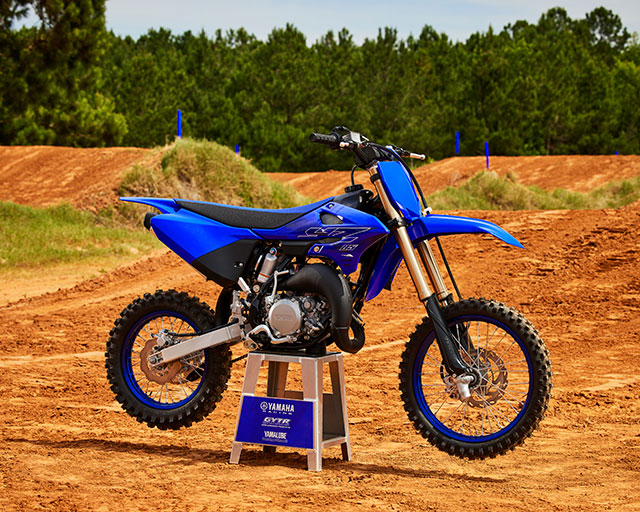 IMPROVED AIR INTAKE
The air intake system has been redesigned and features new side panels with large rear facing vents for a straighter airflow into the engine's airbox, which, increases the intake efficiency for improved engine performance.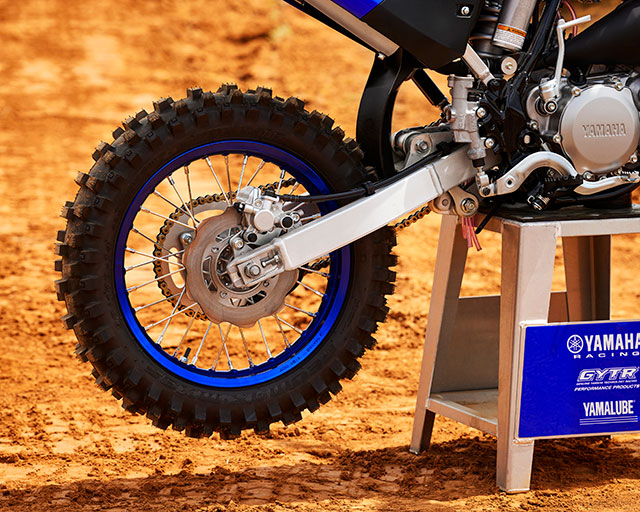 NEW REAR BRAKE SYSTEM
For powerful and controllable braking the YZ85 features self-cleaning wave type discs – with a 220mm front and 190mm rear. And for more linear rear braking and improved feel there's a new rear master cylinder with a built-in sub-reservoir.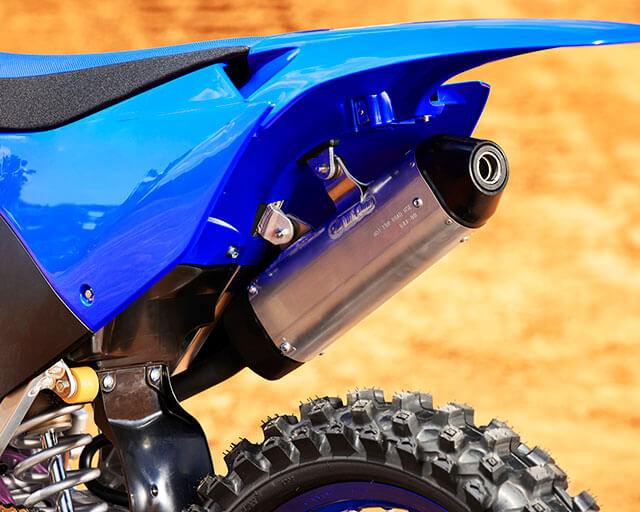 NEW REAR FRAME
Complimenting the performant aluminium semi-double cradle frame, the new rear frame on the YZ125 is designed to enhance air flow into the carburettor, and a new style cross member facilitates the use of a new single bolt fixing for the seat – for quicker and easier maintenance. The new rear frame also accommodates a new mounting point for the 50mm shorter silencer.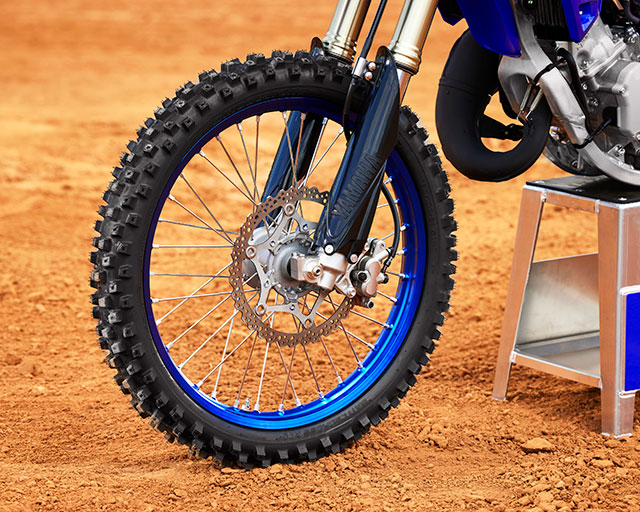 POWERFUL BRAKING SYSTEM
The brakes on the YZ125 have been redeveloped to handle the increased performance. The front disc diameter remains the same at 270mm, but a new more rigid twin-pot caliper is equipped with larger 25.4mm pistons and new pads with an increased contact area for more powerful braking. For the rear disc, the diameter is reduced by 5mm to 240mm while the pad area remains the same.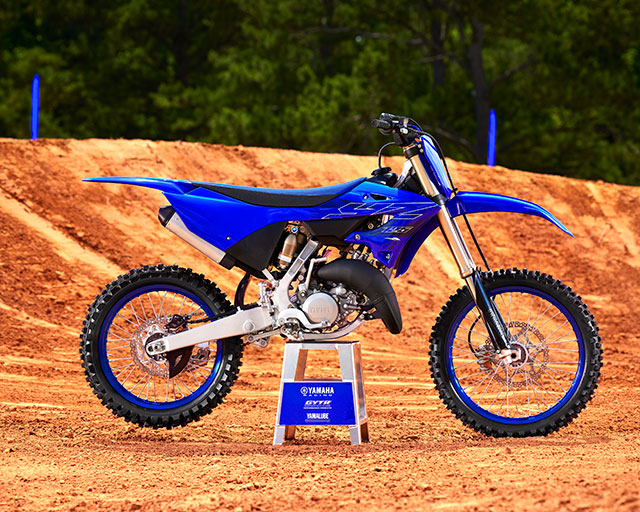 RACE-DEVELOPED ERGONOMICS
Engine performance is just one element of being competitive – the ability to handle the power effectively and take total control of the chassis is also vital. A new much flatter seat with a lower front and higher rear, together with the new slimmer tank and narrower radiator shrouds, make it much easier to shift your weight around the bike when braking, accelerating and cornering.