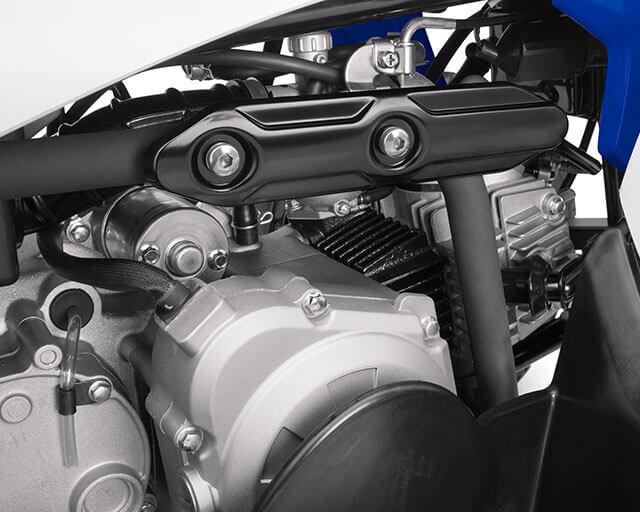 BEGINNER-FRIENDLY FOUR-STROKE PERFORMANCE
The YFZ50™ is engineered as the ideal starting point for aspiring ATV riders aged 6 and up, with a low-maintenance 49cc engine tuned to develop responsive, controllable performance. A combination of engine limiters and a power cut-off tether switch make it easy to allow young riders to adapt to the ATV as their skills grow.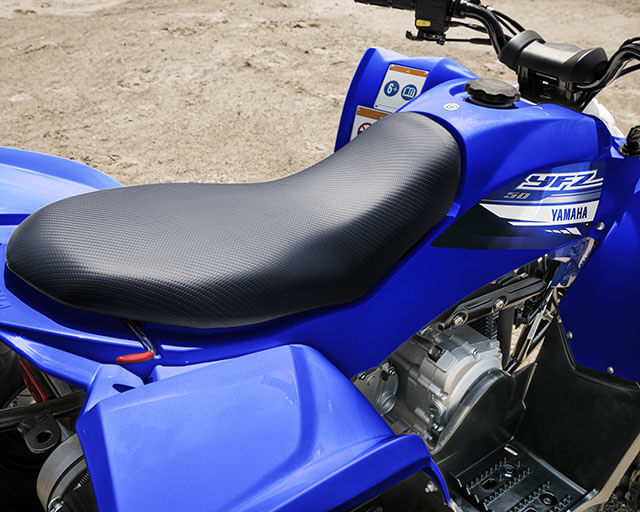 COMFORTABLE CHASSIS
A robust steel frame design incorporates a large 5.7 Litre fuel tank, plush seat and roomy integrated floorboards.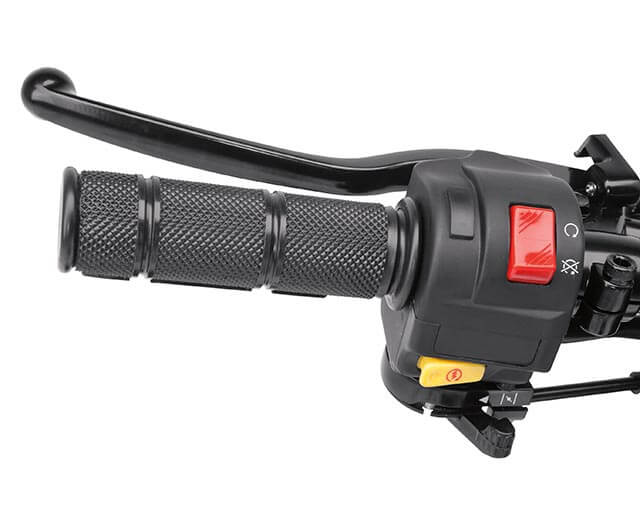 ELECTRIC STARTER
Push-button electric starting comes standard, of course, and an emergency kick starter is also provided in a storage spot under the seat for additional peace of mind.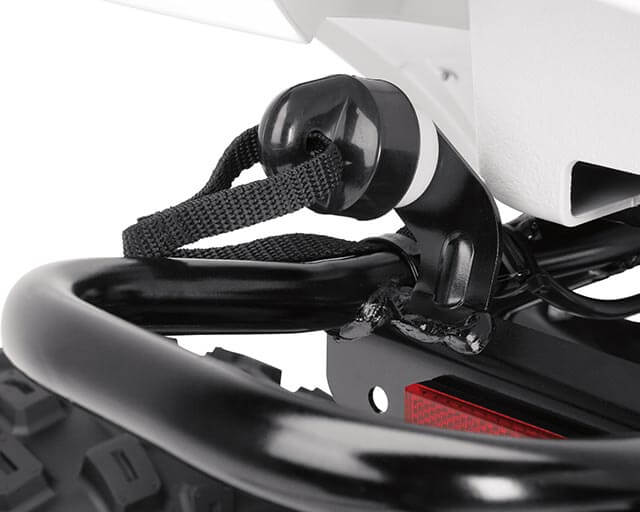 ENGINE LIMITER AND TETHER SWITCH
To help young beginners grow into accomplished ATV riders, the YFZ50 includes a two-stage rpm limiter as well as a throttle limiter to restrict the engine's performance and adapt to the rider's advancing skill levels. A tethered switch allows parents to closely monitor new riders and cut power to the engine if necessary as new riders learn the basics of ATV control.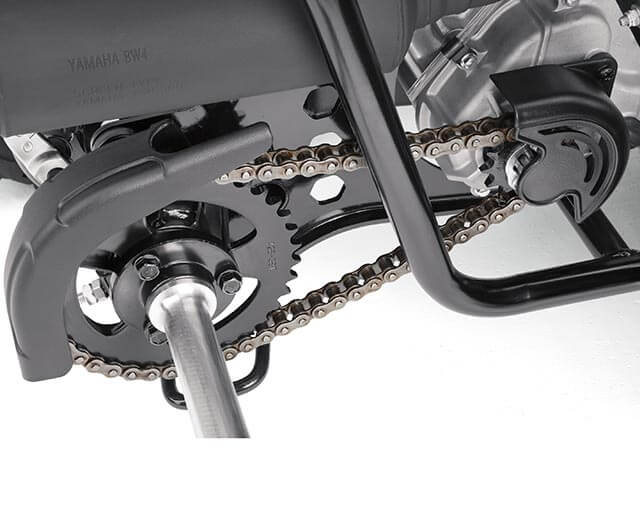 SPORTY DRIVETRAIN
Engine power is transferred to the rear wheels via a tried-and-true O-ring chain drive, running along a swingarm that's set at an optimized angle for rear shock performance.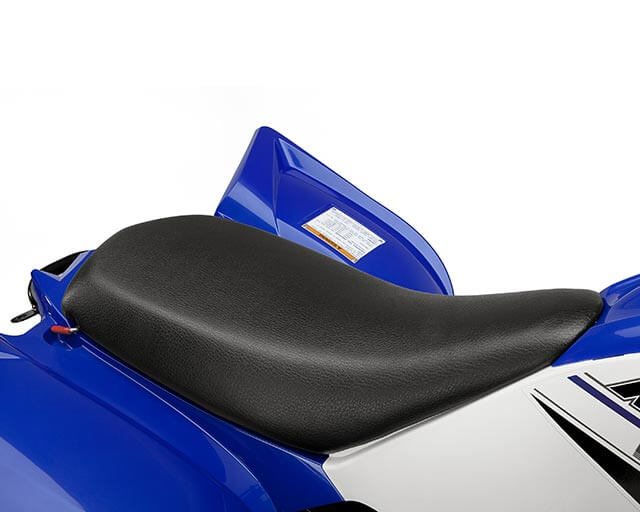 COMFORTABLE CHASSIS
An advanced frame design incorporates a large 6.6 litre fuel tank, plush seat and roomy integrated floorboards inside a long, secure wheelbase.
RALLY STYLE COCKPIT
Sitting on the Ténéré 700 with the rally-bred cockpit in front of you, you'll absorb the pure Dakar character of this new generation adventure bike and be inspired to get out there and explore. The compact rally screen and nose fairing give you excellent protection from the wind while maintaining the slim and lightweight character of the bike, and the competition type tapered handlebars give a relaxed riding position whether you're seated or standing.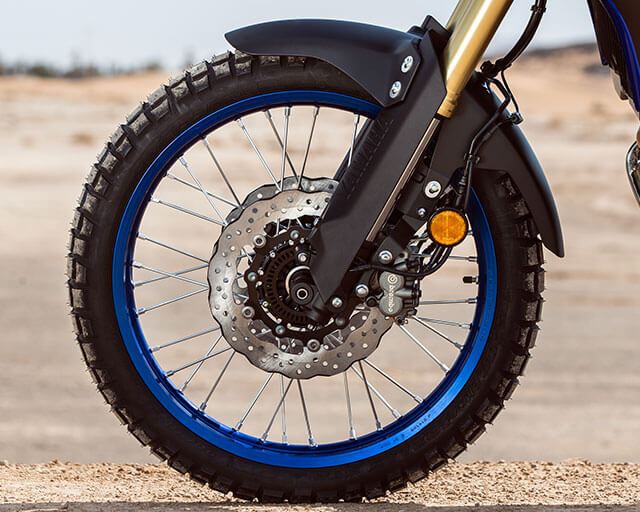 FRONT AND REAR SPOKED WHEELS
Just like the high specification front and rear suspension, the spoked wheels clearly demonstrate that this bike is built for serious off road riding. With their ability to efficiently absorb the continuous impacts experienced when riding in rough terrain, these lightweight wheels work with the long travel suspension to give you optimum handling performance and control. Pirelli Scorpion Rally STR tyres are fitted as original equipment, and because the Ténéré 700 features a competition type 21-inch front wheel/18-inch rear wheel combination, you have the possibility to fit a wide choice of tyres to suit your own requirements - ranging from a pure enduro pattern for predominantly off road use, through to dual sport pattern tyres for year round on/off road versatility.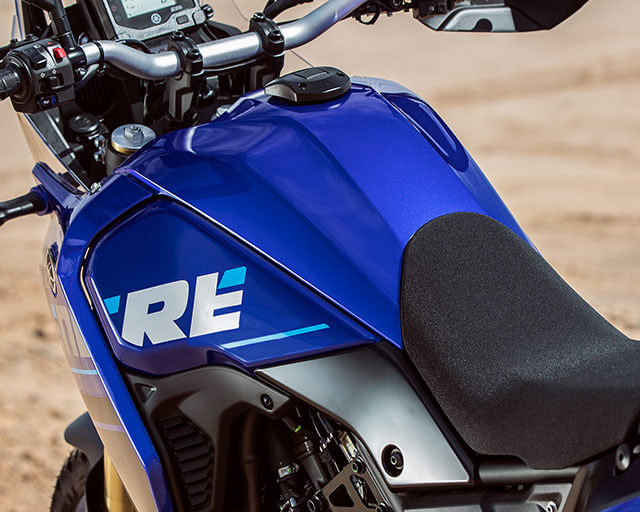 SLIM LONG-RANGE FUEL TANK
Throughout the development of this new generation adventure bike, Yamaha's key goal was to deliver class leading off road performance together with outstanding road abilities and offer a genuine long-range potential. The slim design of the fuel tank belies its 16-litre capacity, and its narrow rear section offers plenty of rider mobility and excellent knee grip. Whether you're sitting down or standing up, the compact dimensions of this long-range fuel tank enable you to shift your weight around effortlessly – and thanks to the excellent economy of the 2-cylinder engine, 16-litres of fuel will give a potential riding range of over 350km which gives the Ténéré 700 a high level of year-round all-terrain versatility.