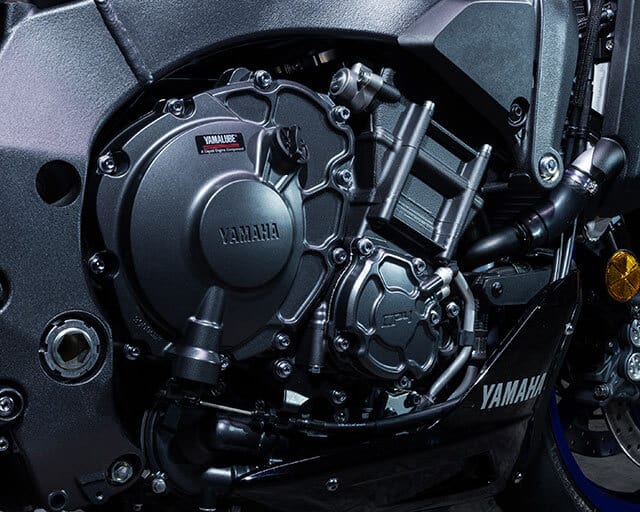 998CC CP4 ENGINE
Nothing can match the thrill of the MT-10's more powerful 998cc CP4 engine. Its crossplane technology design gives a unique uneven firing sequence that delivers sensational torque for remarkable acceleration – and the latest bike features a tuned intake system with larger intake ducts and tank-mounted Acoustic Amplifier Grilles that emit a deep roar for a spine-tingling experience as you open the throttle.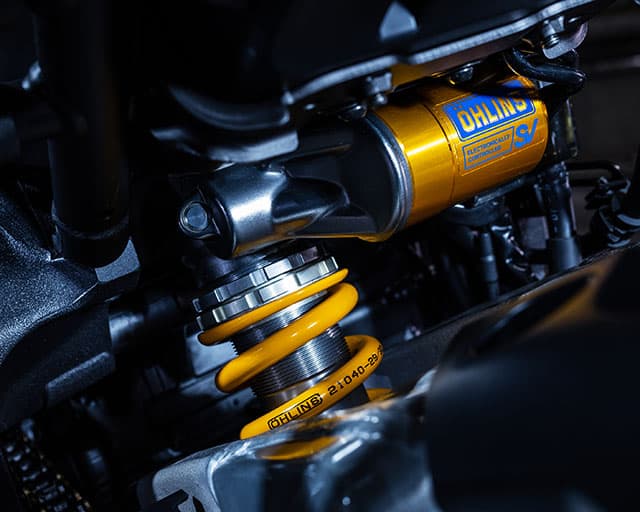 GEN-2 ÖHLINS ELECTRONIC SUSPENSION
The next evolution MT-10SP is the first motorcycle in the world to be equipped with the radical new Öhlins electronically controlled spool valve suspension. Offering a much wider range of more precisely controlled settings, this pioneering system gives a choice of three semi-active and three manual modes that provide a higher degree of controllability for the most thrilling high performance riding experience.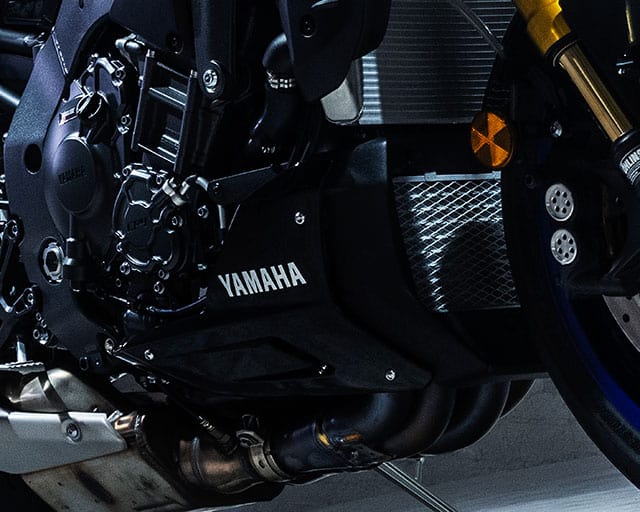 3-PIECE BELLY COWL
Another of the exclusive features on the new MT-10SP is a lightweight 3-piece belly cowl that gives the bike a more refined and aggressive sports look and directs air at the oil cooler for consistent operating temperatures.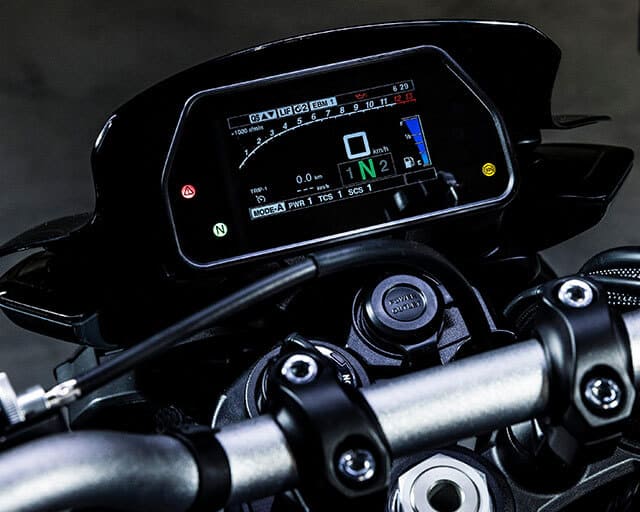 4.2IN FULL-COLOUR TFT DISPLAY
The new 4.2in full-colour TFT display that features a clear and easy to read screen with all the key information on view. A menu switch on the right handlebar enables the rider to select which information displayed, while the 'Mode/Select' switch on the left side of the handlebar can be used to change the intervention levels of the electronic rider aids, or where applicable, to turn them on or off.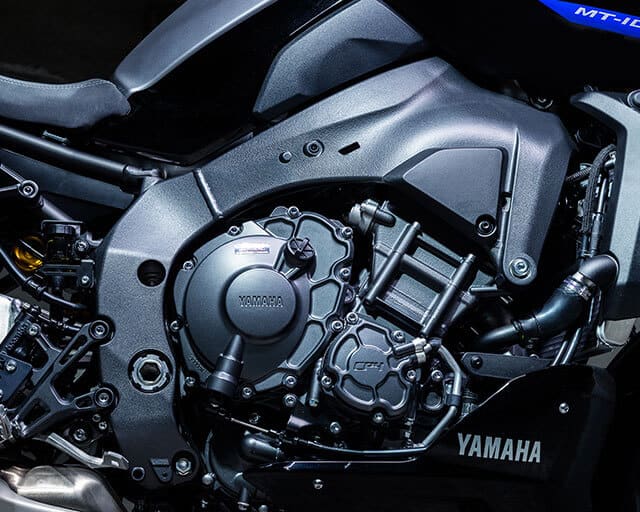 LIGHTWEIGHT DELTABOX CHASSIS
Derived from the class-leading R1, the aluminium Deltabox chassis is one of the lightest, strongest and sharpest handling designs in any category. Developed to handle 200bhp, this high-tech frame uses the CP4 engine as a fully stressed member to keep weight to an absolute minimum. Equipped with a long aluminium swingarm but with a compact wheelbase of 1405mm, the Deltabox chassis delivers stable, light and agile handling in a wide variety of low and high speed conditions.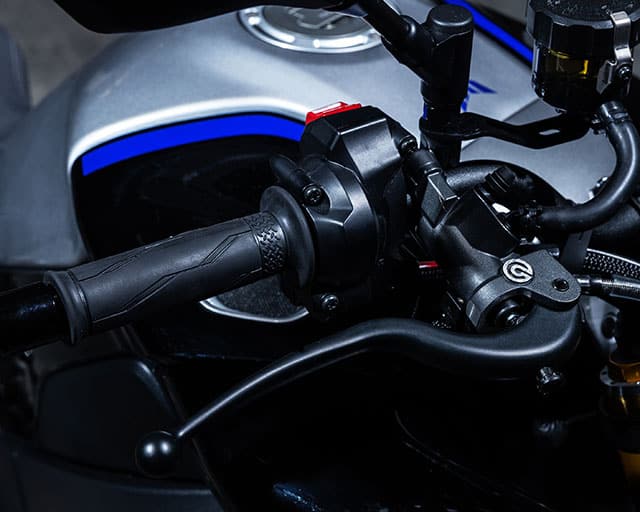 BREMBO RADIAL MASTER CYLINDER
With its R1 derived system featuring dual floating 320mm discs and 4-piston radial mounted calipers, the MT-10SP is equipped with the most sophisticated braking package fitted to any production Yamaha. The new model benefits from a Brembo radial front brake master cylinder for even more accurate feel and controllability, giving you the ultimate stopping performance.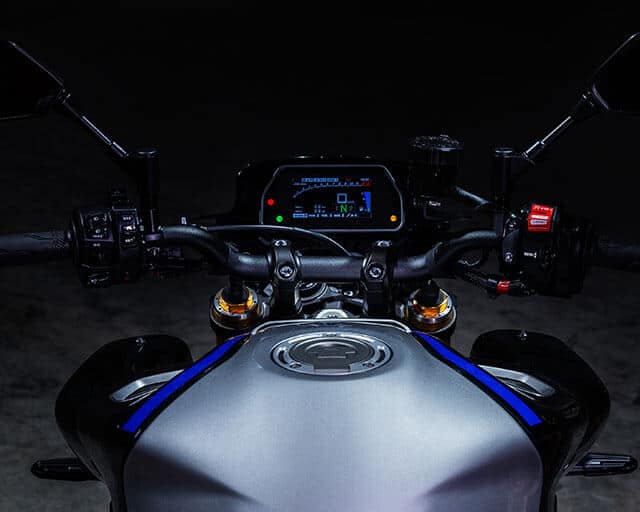 6-AXIS IMU WITH FULL RIDER AIDS SUITE
Hidden inside a little black box is a 6-axis Inertial Measurement Unit (IMU) that senses pitch, roll and yaw, as well as forward/backward, up/down and left/right acceleration. The ECU then uses this data to activate the high-tech rider aids package, including traction control, Slide Control (SCS) wheelie control (LIF) engine braking (EBM) and brake control (BC) that ensure the ultimate setup on every ride.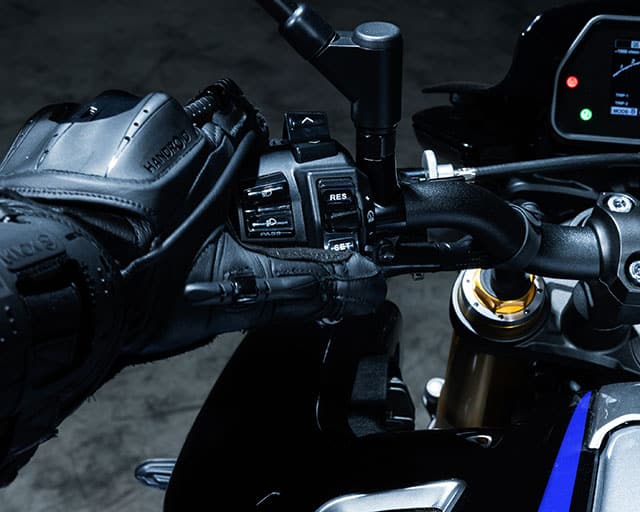 CRUISE CONTROL & VARIABLE SPEED LIMITER
For more relaxed and enjoyable riding the MT-10SP comes equipped with a cruise control system that can be activated in 4th, 5th and 6th gears above 50km/h. A switch on the left handlebar turns the cruise control on or off. A new feature added on the new MT-10 is the Yamaha Variable Speed Limiter (YVSL) that gives the rider the ability to set a top speed limit to suit various situations. This ensures that public road speed limits are not accidentally exceeded.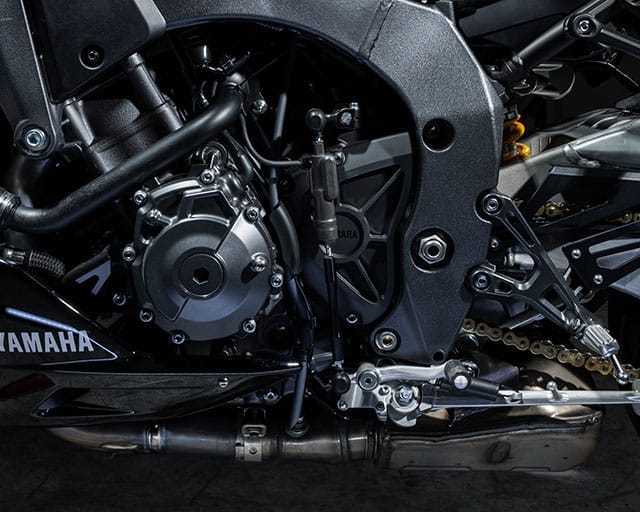 QUICK SHIFT SYSTEM
For faster and more efficient acceleration the MT-10SP is fitted with a Quick Shift System (QSS) as standard. This electronic system enables you to perform full throttle clutchless upshifts, as well as smoother and more controlled clutchless downshifts that – along with the A&S clutch – help to maintain chassis stability when decelerating.