HIGH PERFORMANCE
Featuring a Yamaha Chip Controlled Throttle (YCC-T) for smooth power delivery, the advanced inline 4-cylinder powerplant delivers outstanding sports performance. Its high torque output makes for strong acceleration in all 6 gears - and the impressive top end enables you to cover massive distances without trying too hard.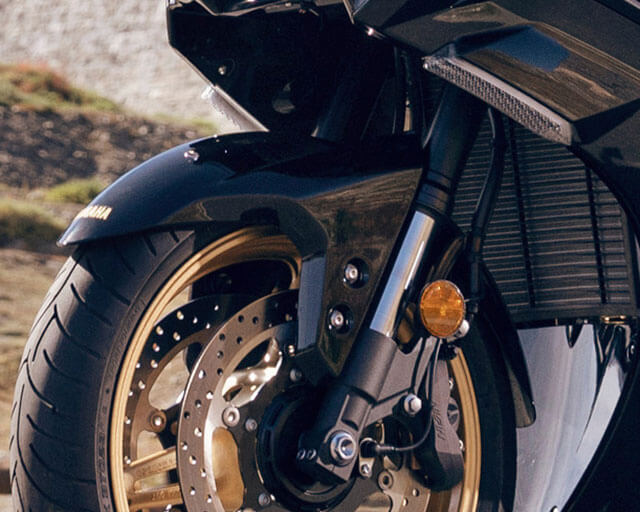 ELECTRONICALLY ADJUSTABLE SUSPENSION
By simply selecting an option via the easily located handlebar-mounted switch, the rider can select 'One-Up', 'One-Up with Luggage', 'Two-Up' or 'Two-Up with Luggage' suspension settings. In addition to these four main settings, the system also offers the rider a choice of 'Soft', 'Standard' or 'Hard' damping for each setting, giving a total of 12 pre-defined suspension set-up options.
ASSIST AND SLIPPER CLUTCH
The FJR1300AE is equipped with a 6-speed transmission that enables the rider to make optimal use of the massive reserves of torque for rapid acceleration - while the high 6th gear gives lower rpm at high cruising speeds. And for smoother downshifting and enjoyable cornering, a standard Assist and Slipper (AS) clutch is fitted.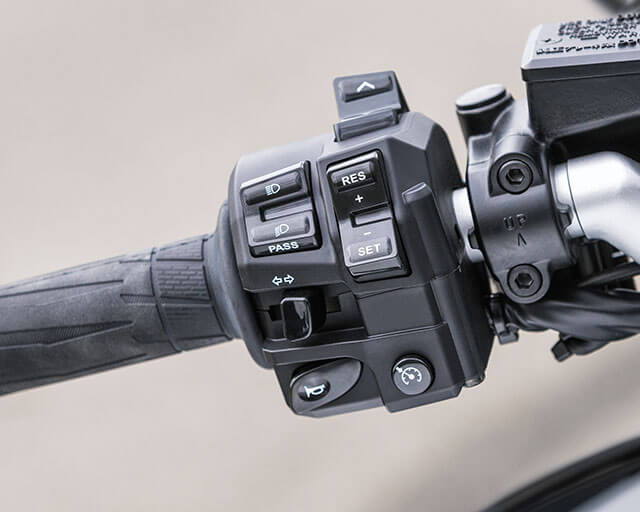 CRUISE CONTROL
The FJR1300AE benefits from a new easy-to-operate cruise control system, which has been designed to make long-distance touring more relaxing and enjoyable. The system functions in 3rd, 4th and 5th gears between 50 km/h and 180 km/h, and is operated by two switches located on the left handlebar assembly.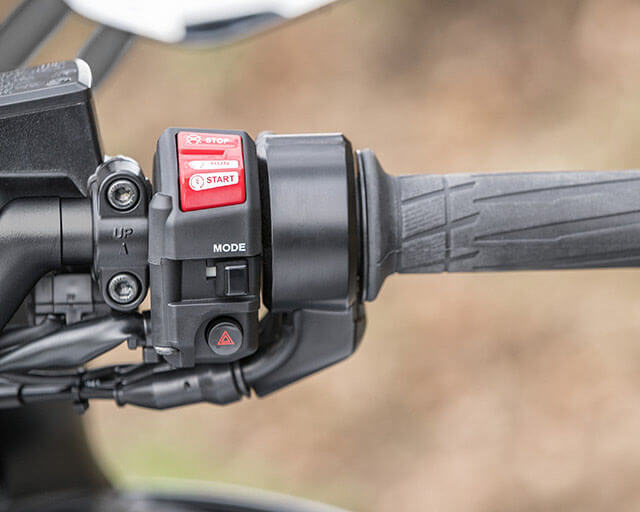 YAMAHA D-MODE
Yamaha D-MODE offers the rider a choice of two running modes, identified as 'T' mode and 'S' mode, which are operated by a push switch on the right handlebar. The system changes the character of the engine performance by adjusting the throttle valve in the Yamaha Chip Controlled Throttle (YCC-T).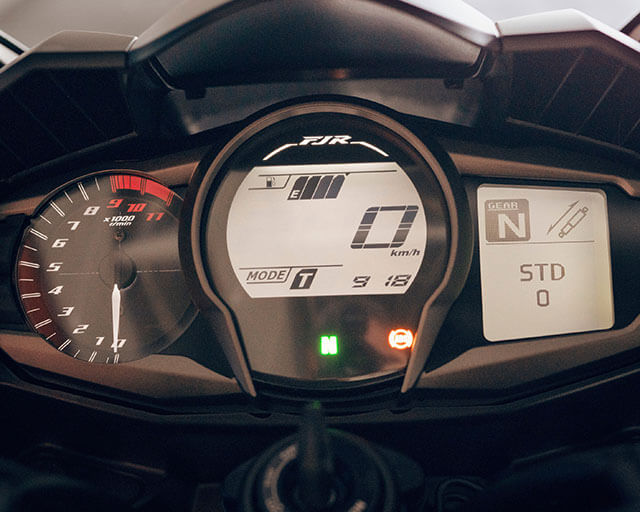 TRACTION CONTROL SYSTEM
This electronic system uses sensors to detect any rear wheel spin, and as soon as the rear tyre loses traction the Traction Control System instantaneously adjusts the bike's ignition timing, as well as the fuel injection volume and throttle opening to momentarily cut drive, and ensure that traction is maintained.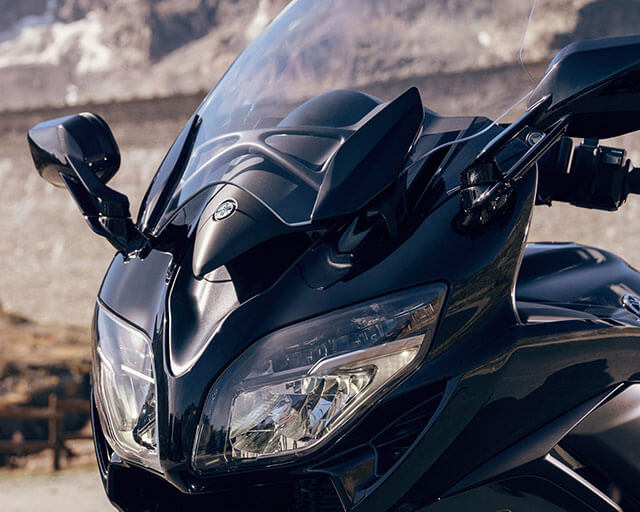 LED HEADLIGHTS
Twin-eye headlights are equipped with four compact and powerful LED lighting units - while the LED position lights and LED taillight assembly underline the FJR's high-tech specification. And with its front adaptive cornering lights that illuminate as the bike banks over, the FJR1300AE is one of the most capable bikes in its class.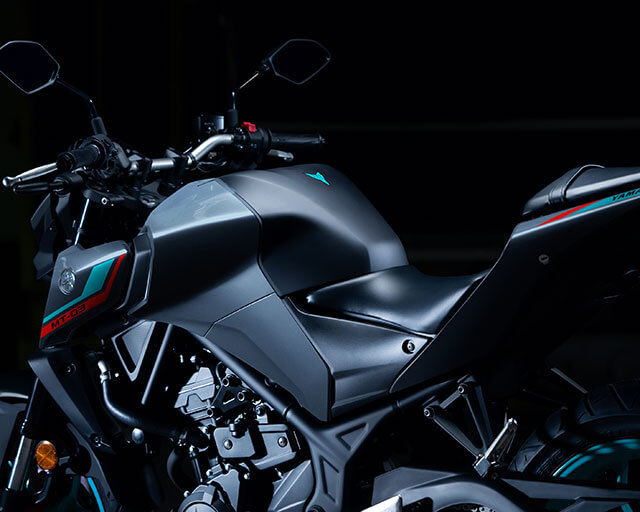 COMFORTABLE ERGONOMICS
The MT-03's ergonomic handlebar / seat / footrest layout is designed to give an upright riding position that makes this one of the most comfortable and versatile bikes in its class.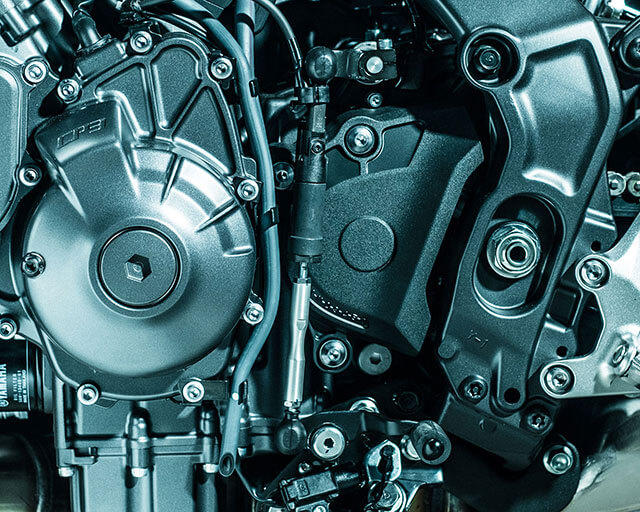 QUICK SHIFT SYSTEM
For ultimate acceleration the MT-09 gets a Quick Shift System (QSS) that ensures seamless and clutchless full-throttle upshifts and smooth downshifts. Together with the A&S clutch, this electronic aid transforms the riding experience and enables the rider to optimise the increased torque levels for more thrilling acceleration as well as higher levels of chassis stability and control when downshifting.